When I bought my truck I made sure it came with the factory spray-in bedliner (as part of the VTP package). However I noticed that it was very abrasive, scratching or scraping up anything I put in the bed (aside from mountain bike tires). For those of you who have the factory spray-in bedliner, you know what I'm talking about; it's almost like grip tape! I had the Dee Zee Truck Bed Mat on my buy list for a long time (maybe since the beginning of 2015) but it was always pushed aside for other things I wanted to buy. Recently I noticed the price dropped to $60 shipped on eBay, so I decided to finally buy it.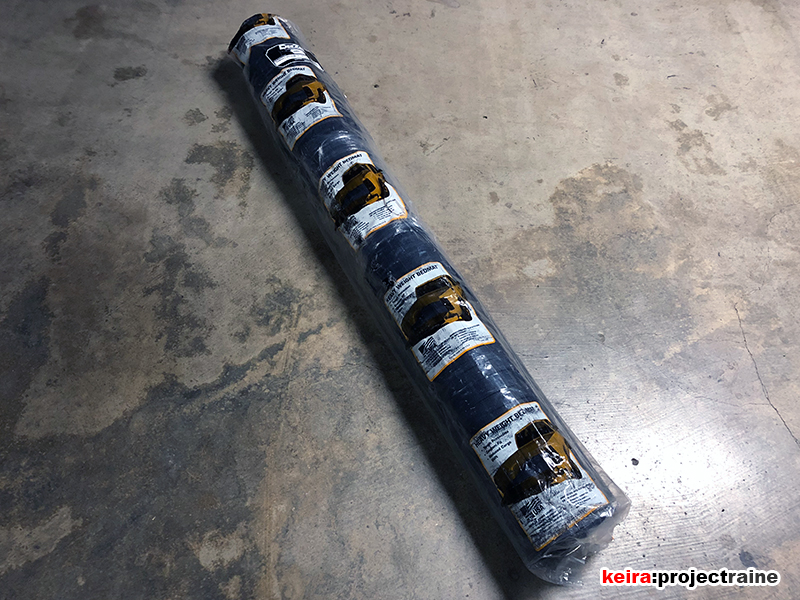 Fun fact: I saw the delivery guy through the living room window struggle up my driveway to the front porch carrying the mat.
When I opened the door later to get it, I realized why he was struggling – it was pretty heavy! The Dee Zee mat is solid rubber, with a shallow channeled top surface, thick borders, and is molded to the shape of the Frontier bed floor. When rolled up it's not really that heavy, but it's an awkward balancing act trying to carry it through the hallway to the garage. Anyways, here it is unfolded: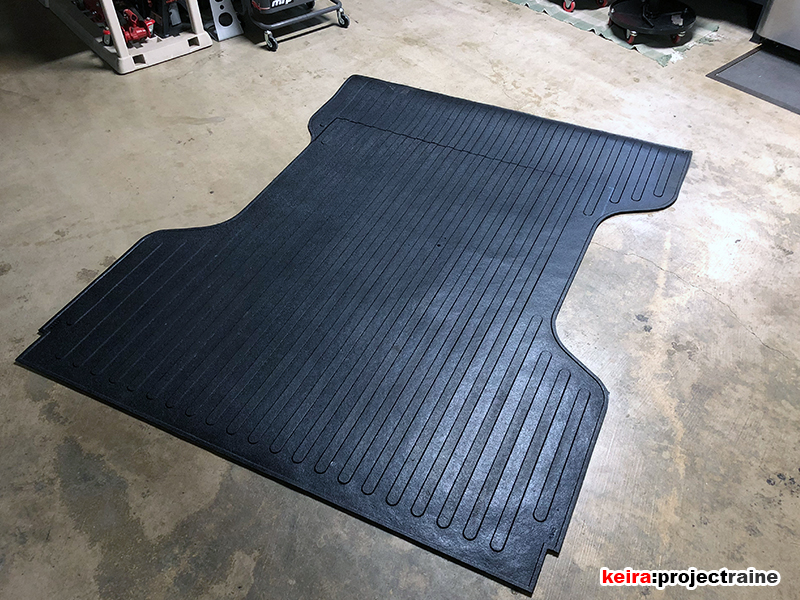 They only sell a 6-foot length to fit long bed Frontiers. However I have a short bed, and luckily Dee Zee has me covered – the truck bed mat has a cut line molded into the mat that is exactly the shape and size of the short bed: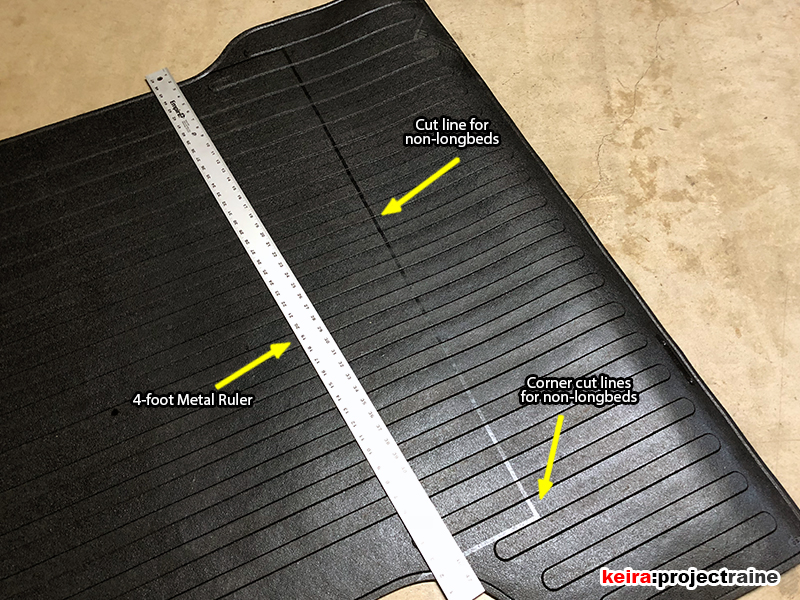 With the aid of my 4-foot metal ruler and a box cutter, I had the mat trimmed to size in literally 3 minutes. I thought it would take longer to trim such a thick rubber mat, but good thing I had a fresh blade in the box cutter and a long enough ruler to cut the lines straight and tidy.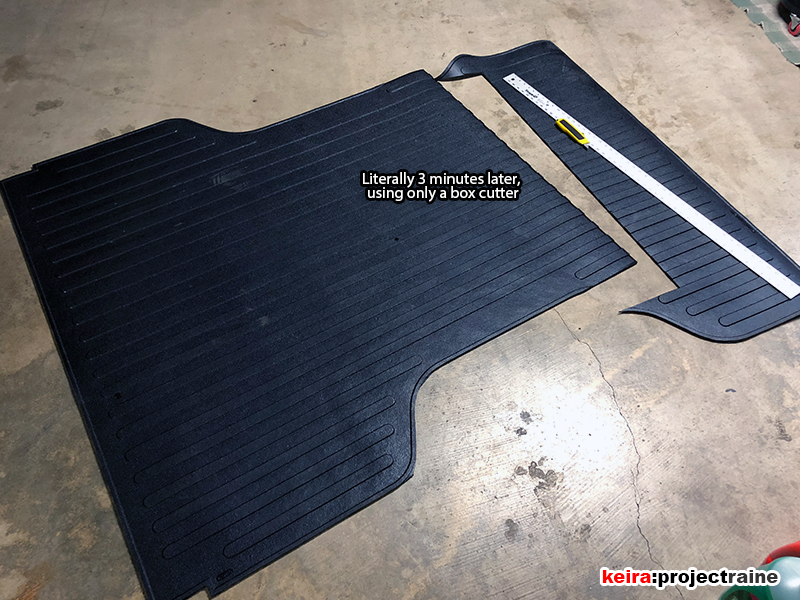 Below is a photo showing the thickness and how the upper surface is channeled. I thought these channels would make it a little difficult to cut, but I guess not: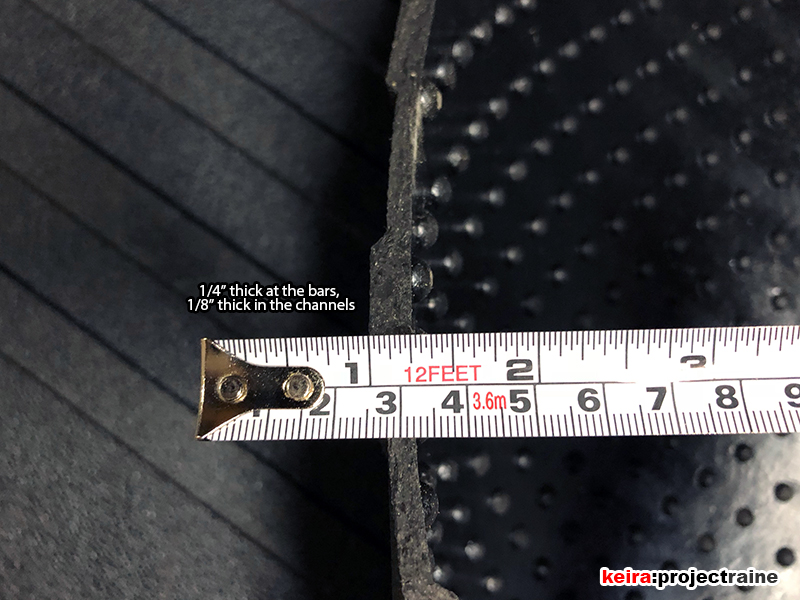 With the mat trimmed, all that was left was to install it into the bed of my truck. I used the word "install" loosely, because all I had to do really was drop it into the bed and it was done. Good thing though, because I did this in the evening and it's pretty chilly outside at night.
Before:

After: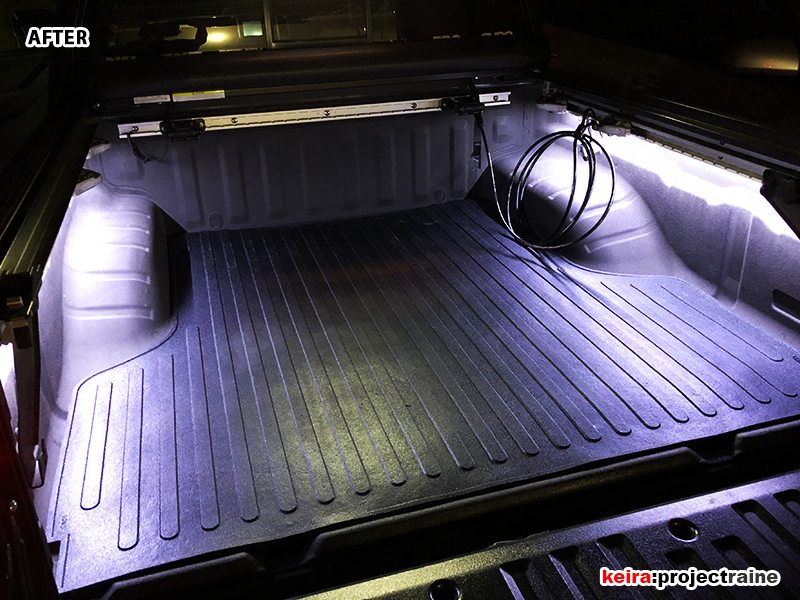 Pretty happy with the truck bed mat – it fits right, and is heavy enough to stay in place, especially since the factory spray-in bedliner's gritty surface grabs the underside of the mat. Up top the surface is softer than the actual truck bed, but not so soft that you sink in. No more scratchy surface!