Hey… What Generation is My Frontier? (updated for 2023)
(UPDATED 06.11.2023)
When the new-at-the-time Nissan Frontier was released in the latter half of 2021, it seemed like a lot of current Frontier owners were suddenly not sure what generation they had. So let's not wonder any further: if you are trying to figure out what generation of Nissan Frontier you have, or you just wanted to learn more about the generations and some cloesly-related vehicles, here's my brief historical guide covering all of the North American Frontier models, including some bonus info for trivia night!
NOTE: Although there are two vehicles here with a "Navara" reference, this guide isn't meant to cover all Navaras or anything outside of the North American market; I am completely aware that Thai, Spanish, and Southeast Asian markets offer the same or similar trucks, but for the most part this is centered around the "Frontier."
---
1985-1997: Nissan Hardbody (D21)
The first Nissan Pickup Truck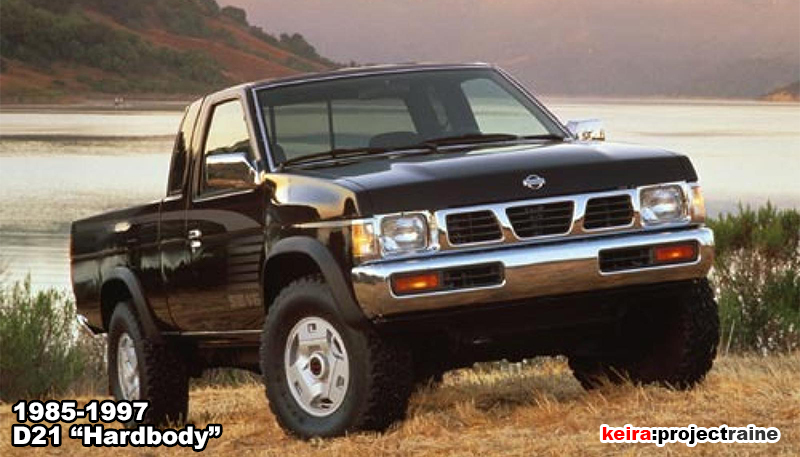 First of all – no, this is not and never was named "Frontier", and thus it is not a Frontier model. However this pickup truck (chassis designation D21) is significant and I added it to this list because it was the first pickup truck under the then-new Nissan rebranding (the previous generation pickup was their 710, under the old "Datsun" brand name). Known as the Nissan Hardbody during its production run, this version of the Nissan truck made its mark in history thanks to Roger Mear's distinctive red, white, and blue Budweiser-sponsored Baja 500 race truck that brought home the trophy in 1987 (and which became the original inspiration for the "Desert Runner" trim level). Though not a Frontier, this truck to me is one of the best looking trucks Nissan ever produced, with its distinctive hood design that hangs over the front and King Cab windows that extended to the roof panel. As a very popular truck for both off-roaders and lowriders, Nissan continued to sell it for over 12 years. As a kid, I loved the look of this truck, and if ever I find a clean, 1995-1997 King Cab 2WD for sale one day, I might buy one!
How to tell if this is my truck: Square-edged body styling; people mistake your truck for a 90's Pathfinder.
---
1997-2000: First Generation Nissan Frontier (D22)
The Nissan Truck Gets a Western Name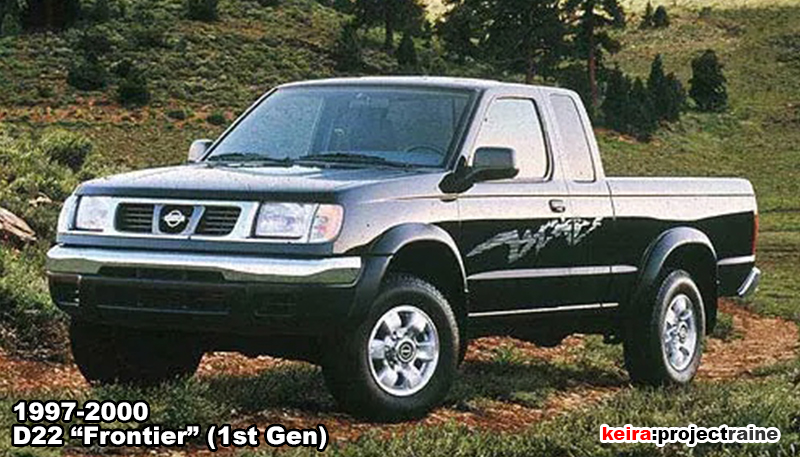 The replacement for the D21 was the D22, the first official pickup truck to use the "Frontier" name. It shared similar dimensions to the outgoing Hardbody pickup, but with rounder body styling and a very boring front end. The Frontier model name was designated mainly for North America, as it gave the truck a more western feeling to it. This version was also the first to offer a full 4-door body style (known as the Crew Cab) in North America for the 2000 model year (although 4-door pickup trucks were already prevalent in Asian markets for over a decade). Unlike the previous Hardbody, the initial sales of this new Frontier were lackluster, as U.S. Nissan dealerships found that a lot of repeat and/or potential Nissan truck customers were not liking its bland exterior styling (this model's appearance was designed in Japan); Something had to be done.
How to tell if this is my truck: Your headlamps are sunken into the soft-looking grill; you spontaneously fall asleep staring at the front end.
---
2001-2004: First Generation Nissan Frontier (D22) Facelift
A Fresh Face to Save Face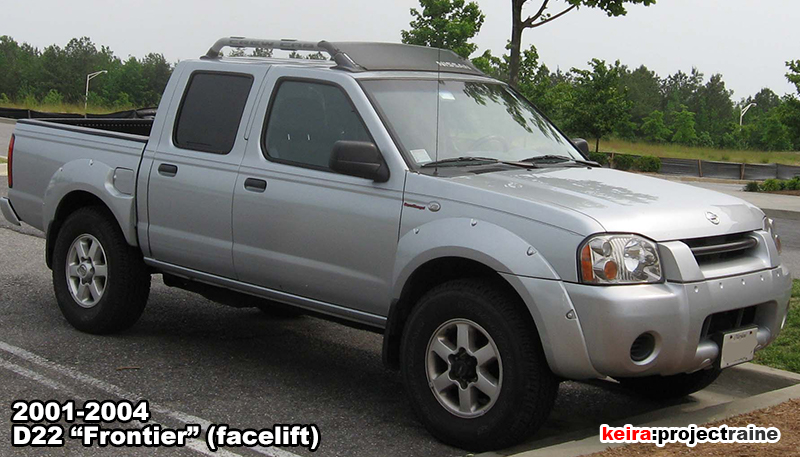 Due to lackluster sales from their new D22 Frontier pickup truck, after just 3 years in production, Nissan made the decision to give the Frontier a very drastic exterior overhaul, in order to dump the bland styling it had for something more futuristic, modern, and appealing to younger buyers. The result was the 2001 facelifted Frontier, featuring a bold new front end styling with a protruding grille, distinctive oversized headlamps, and pronounced off-road style fender flares. This new version was only available in King Cab or Crew Cab body styles, and to further lure more buyers to the Frontier, a Supercharged V6 version was offered in 2001. The revisions worked, as this fresher-faced Frontier started selling and kept Nissan competitive in the compact pickup category, standing head to head with offerings from its main competitors Toyota, Mistubishi, and Mazda.
How to tell if this is my truck: It looks like it came from outer space; fake body panel rivets everywhere; roof rack bars thicker than your UCAs.
---
2005-2008: Second Generation Nissan Frontier (D40)
Time to Upsize


In 2005 a completely new Nissan Frontier was brought to America, and it was a lot larger than the previous D22 trucks. This new mid-sized truck was a direct response to the also new-for-2005 Toyota Tacoma, which by now was Nissan's only serious rival in this newer mid-size truck category in the United States. The new D40 Frontier was built strong, with a chassis derived from the fully-boxed "Alpha" frame used by Nissan's full-sized Titan that was first introduced in 2003. In North America, the SOHC supercharged engine from the previous D22 was dropped in favor of a new, larger displacement and more powerful VQ40DE 4.0 liter V6. Once again the Nissan Frontier's latest version was a hit, to the point that when Suzuki wanted to enter the pickup truck market in 2008, they introduced the "Equator" – which was basically a D40 Frontier with Suzuki-styled front bumper, headlamps, hood, grille, and tailgate.
How to tell if this is my truck: Your front signal is above the headlamp; thin chrome grill (minus the "V' portion); all plastic center dash stack with a rounded/curved upper portion.
---
2009-2021: Second Generation Nissan Frontier (D40) Facelift
Long Live the D40


In 2009 the Nissan Frontier received a typical 4-year refresh by way of some subtle yet significant changes. The whole front end was reshaped and redesigned for a smoother, cleaner look. New models featured either the previous 2005-2008 metal bumper or a new 1-piece molded plastic body-colored bumper. The interior was also revamped with a redesigned center stack as well as technology updates as years passed by (For a more in-depth look at the changes, see my post here). While other trucks kept getting refreshed throughout the following decade, the Frontier stayed pretty much as-is; this meant that while the others were getting more facelifts (and their pricing would creep upward) the Frontier would evolve into the best "bang for the buck" mid-sized truck available in the market. In what is now confirmed as the final 2 model years for the Second Generation D40 in the U.S., The 2020 and 2021 model year Frontiers were equipped with an all-new 3.8-liter direct-injection V6 (VQ38DD) mated to and new nine-speed automatic transmission.
How to tell if this is my truck: Your front signal is in the corner of your headlamp; the grill has thicker bars; your center dash air vents have separate brushed metal-look surrounds; your truck looks related to Project:Keira.
---
2022+: Third Generation Nissan Frontier (D41)
Catching Up To Now


After years and years of false alarms and incorrect speculation (So many people tried to "confirm" that the NP300 was the next Frontier LOL) Nissan finally and officially released the successor to the D40, the 2022 model year Nissan Frontier. This is a North-American specific offering (which is not shared globally) with an all-new exterior design, but based on a revised version of the current F-Alpha platform (from the D40 Frontier) that Nissan has been using across its truck and SUV lineup. Styling is a significant change from the outgoing D40, with a more square-edged look and proportions that are very similar to its current competitors the Toyota Tacoma, Chevy Colorado, and Ford Ranger. The only powerplant offering, for now, is the same 3.8 liter V6 and 9-speed gearbox that powers the current 2020-2021 Frontier, and other notable features of the new Frontier are up to date interior design, a 7.0-inch "Advanced Driver Assist Display", and modern features like Apple CarPlay, Android Auto, and wireless charging. Although the exterior and interior are all-new, much of the platform itself (chassis, suspension) is mostly backwards-compatible with 2nd gen parts and upgrades.

How to tell if this is my truck: If the front end looks like a Chevrolet Silverado, the rear end looks like a Toyota Tacoma, but it has a bunch of Nissan emblems on it, and if you bought your brand new 2022 truck in the fall of 2021 or afterward.
---
2014-2020: Nissan Navara NP300 (D23)
Not in U.S.A., but a little south.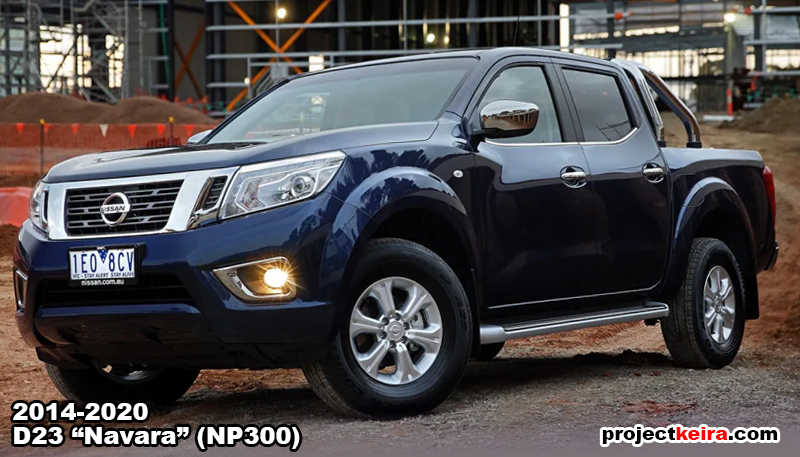 This model is not a Frontier, but it had to be part of this guide only becuase for the longest time, a bunch of Internet "experts" insisted and kept trying to "confirm" that the NP300 design shown above was the next 3rd Generation North American Frontier… and they were wrong.
How to tell if this is my truck: You did not buy it at any Nissan USA delaership, and well… it says "NAVARA" on it, not "Frontier".
---
2021+: Nissan Navara NP300 (D23) Facelift
When even they can't decide what to call it.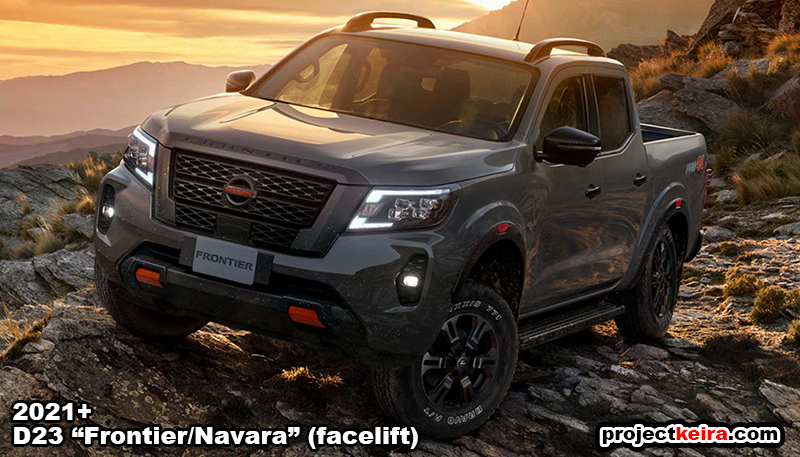 The D23 Navara body style was updated in non-U.S. markets with a facelift in 2021. The result is a redesigned front end  It has the familiar body and headlamp styling of an NP300, but with a new front grill, front bumper, and rear tailgate that is not coincidentally very similar to the D41 Nissan Frontier. In fact, this model actually does belong in this guide because this facelift version is called both a Navara" or a "Frontier" depending on trim level and selling market. However, it is still a model that is not sold in the U.S. which is sad, because I think it looks much better and more familiar looking as a "Nissan" than the U.S. model D41.
How to tell if this is my truck: If it looks like the original NP300 and the current U.S. market 3rd generation D41 Frontier had a baby.