Audio Upgrade Guide, PART 9: Partial… Means You're Not Done
PART 9: Partial… Means You're Not Done
a.k.a. 60% of the time, It Sounds Awesome Every Time
Per the dictionary.com website, the definition of the word "partial" is "being such in part only; not total or general; incomplete" with the last word being the focus of this part of the Audio Guide – that is, the pitfalls of doing an incomplete audio system upgrade. This is particularly true (and unfortunately common) for our Nissan Frontiers because of the many little quirks our trucks have when it comes to how Nissan configured the various OEM audio systems that were installed in our trucks when we bought them fresh off the lot.
Over the years I've come across many people who have easily done true, complete upgrades – and many more who have come up with all kinds of reasons, explanations, or declarations as to why their partial upgrade is all they are willing to do. Now don't get me wrong – when I use the term "complete audio system upgrade" I don't mean that every audio system must have 10 million gigawatts of power, high-end DSP and signal processing, multiple speakers, and subwoofers powered by multiple amplifiers, a high-amperage alternator upgrade, and dual batteries. What I mean here is to upgrade or add what I feel are necessary items that as a whole, not only improve the overall sound quality but also remove as many "bottlenecks" or limitations of the Nissan Frontier's OEM system as possible.
Specifically, for us Frontier owners there are many major deficiencies that the OEM audio system has – such as a serious lack of frequency response, inferior speakers, a lack of low-end bass (especially for those without the OEM Rockford Fosgate subwoofer), and quirky OEM wiring. All of these issues can be resolved, but only if one is willing to truly resolve them as a whole.
So, with that said. let's look at 5 common partial audio system upgrades (particular to the Nissan Frontier) that many have done (or were/are thinking of doing), and why they are actually not enough when it comes to upgrading your audio system's ability to produce quality sound.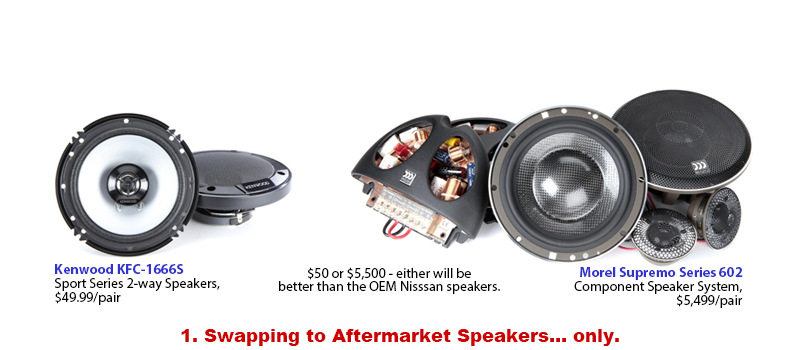 What you did:
You only replaced the OEM factory speakers with aftermarket speakers
What you gained (Yay!)
Whether you go with a set of decent $50 aftermarket coaxial speakers or a premium $500 set of matched component speakers, they will all be capable of creating clearer, louder, higher quality sound covering almost the entire range of frequencies the human hear can hear. However – note that I only said capable because…
Why it's not enough (Boo!)
…speakers are only part of an audio system (that's why it's called a system). The speakers will only reproduce the audio signal/information that it is fed – and if you just upgrade speakers only, where is this signal/information coming from? The OEM head unit. So, if the OEM head unit is putting out a bad-sounding signal, guess what? Your aftermarket speakers will reproduce that bad-sounding signal.
Fun fact:
A common mistake here is that people only upgrading speakers will maybe hear a minor improvement, or no improvement at all, then think that the money they spent to upgrade the speakers wasn't worth it – when the reality is that the aftermarket speakers are just fine, it is the signal from the inferior OEM head unit that is making them sound bad.
What's next?
Upgrade the head unit. It all starts with the source. A decent aftermarket head unit will produce a non-restricted, more complete audio signal. This in turn means that your shiny new aftermarket speakers will play a much better, fuller, richer sound.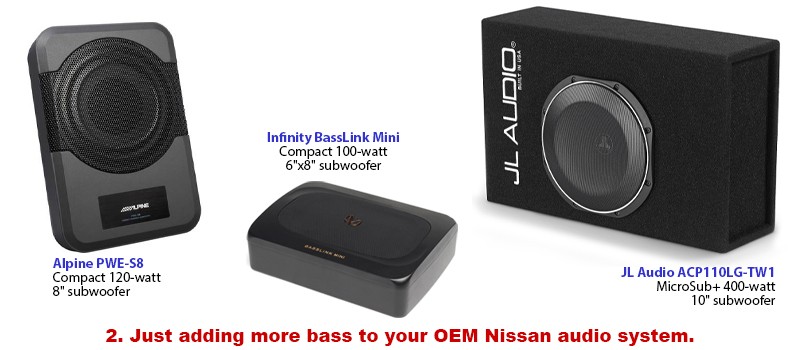 What you did:
You wanted some boom, so you installed some subs and an amp (or a powered subwoofer).
What you gained (Yay!)
Well, you added more bass. Now you can feel the seat shake when you play those jams.
Why it's not enough (Boo!)
Chances are you went big with the bass (as in an 8" woofer or larger, right?) So, in one upgrade you just added a ton of bass, compared to what you had before. But soon you'll realize that the bass is too overpowering compared to the rest of the sound.
Fun fact:
The OEM system already has reduced high and mid frequencies the more you turn the volume up. When you add low-end bass to it, those same high frequencies just get further reduced, and the middle frequencies end up sounding muddy.
What's next?
Upgrade your main speakers. To try to regain some frequency balance back to the sound, you'll need to swap out your stock speakers for some decent aftermarket speakers that can produce more on the mid and high end.
What you did:
You swapped out the OEM Nissan head unit with an aftermarket head unit but kept the rest of the audio system stock.
What you gained (Yay!)
Great! You started the right way, from the beginning of the sound path – the source. Generally, that means you have unrestricted frequency output, a more modern interface, up-to-date features (like CarPlay, Android Auto, etc.), and – as is with most aftermarket head units – a decent, built-in 4-channel amplifier to power your speakers.
Why it's not enough (Boo!)
Upgrading just the source is the first step. If you've read the rest of the Audio Guide so far, you know that at least the path from here will always improve your sound quality.
Fun fact:
Even the built-in amplifier on a $99 basic aftermarket head unit will overpower your OEM Nissan speakers. Typical outputs on an aftermarket amplifier start at around 20 watts per channel. Guess what? The stock Nissan speakers have a power rating of only 2 watts! That doesn't mean you bought the wrong head unit – that just shows you how bad the OEM Nissan speakers really are.
What's next?
Upgrade your main speakers. You took care of the source, now it's time to swap out the stock crappy speakers for decent aftermarket speakers to take full advantage of your head unit's audio output capability (in terms of frequency reproduction).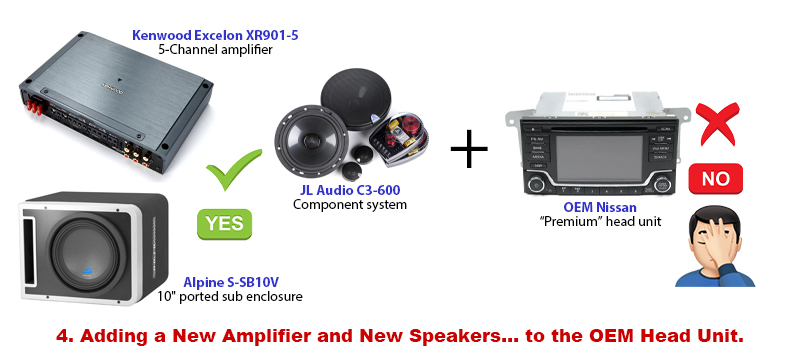 What you did:
For some odd reason you really, really want to keep the OEM head unit, so you decided to spend money on adding more power (external amplifier) and better aftermarket speakers.
What you gained (Yay!)
Simple: more power equals louder sound.
Why it's not enough (Boo!)
Because you kept the OEM Nissan head unit, it is still giving you a crappy audio signal. By adding an aftermarket amplifier and speakers, all you did was amplify that same, crappy audio signal.
Fun fact:
Louder volume does not mean improved quality. Especially with the Frontier.
What's next?
Upgrade your head unit. Even newer cars and trucks have large double-DIN screens, so the "looks OEM' excuse doesn't fly anymore. Neither does insisting on using antiquated USB flash drives to store all the music you downloaded on Napster in the early 2000s through your AOL Internet connection. Finish the job and swap in a better, aftermarket head unit already, because you're just 1 step away from actually listening to good sound.
What you did:
You decided to upgrade the front dash and door speakers to a matched passive component system, with the tweeters up top and the midrange drivers in the door.
What you gained (Yay!)
You equipped your front stage (which is the important part) with decent, aftermarket separates. Instead of trying to reproduce a wide range of frequencies, each driver has a specific range it is meant to produce, which is the basis for more defined audio output.
Why it's not enough (Boo!)
For Standard/Premium (non-Rockford Fosgate) Frontiers: the OEM dash and front speakers are wired in parallel, so they share the same channel of output. To take full advantage of your shiny new passive component system, you'll need to use the crossover included with the aftermarket speakers. The crossover splits the audio frequencies at the correct spot in the frequency spectrum so that your tweeter gets only the high frequencies it's meant to produce, and the midrange drivers get the midrange frequencies.
For Rockford Fosgate-equipped Frontiers: the OEM amplifier has separate channels for the dash and door speakers up front. You can swap in aftermarket components and they will play sound – but the OEM amplifier will be sending a full-range signal to the dash location. Your nice, new aftermarket tweeters are not designed to play a full-range signal, so if you feed it a full-range signal you can damage them permanently (or totally blow them out in an instant!).
Fun fact:
Some budget aftermarket component systems have tweeters with an inline filter instead of a separate passive crossover. For these types of component speakers, you can get away with using the OEM wiring up front for both systems (RF or non-RF).
What's next?
Rewire to increase sound fidelity.

For Standard/Premium (non-Rockford Fosgate) Frontiers: at minimum, you'll have to run a pair of speaker wires to the dash location, bypassing the OEM wiring. This is all you have to do to isolate the aftermarket tweeter in order to connect it to the matching passive crossover, see below:
For Rockford Fosgate-equipped Frontiers: you will need to add some sort of inline filter to your new tweeter in the dash if you want to use the OEM wiring. However, if you want to use the aftermarket passive 2-way crossover, you will need to connect the INPUT of the passive crossover to the OEM Rockford Fosgate's DOOR OUTPUT wires, see below:
Let's Be Real, Bro
If you've read every part of this guide so far and you still haven't realized the basic truth of the matter, this is the last time it will be said: Nissan Frontier owners, at minimum, should plan to replace both the Factory head unit and main speakers. It's similar to an oil change: one wouldn't drain the old dirty oil, fill the engine with fresh, clean synthetic oil…and then not replace the oil filter. To do the complete job you need to do the complete steps.
Once again, as mentioned at the beginning of this part of the Audio Guide – a "complete" audio system upgrade does not automatically mean you have to take out a small loan. In fact, if you take it down to the bare minimum, with no frills, and no fancy tech features that extend beyond simply playing music, one could really do a complete upgrade to their Nissan Frontier for less than $250!
The basic upgrade example above gives you a double-DIN touchscreen head unit with Bluetooth streaming, backup camera input, USB port, and built-in 4-channel amplifier); a 6.5" passive component speaker system to fit into the Frontier's dash and front doors; and a pair of 6.5" coaxial speakers for the rear doors. No – you don't get extra features such as built-in navigation, Apple CarPlay, Android Auto, responsive capacitive touchscreen, OBD-II integration, or digital signal processing.
What you do get though with the basic upgrade above is a "complete" upgrade package that eliminates all of the restrictions that the OEM Nissan head unit and the OEM Nissan speakers had. The music will not only be louder, but it will sound clearer, richer, with a wider range of frequencies and a clarity that you would have never known about because you thought the OEM Nissan system sounded "good enough". Of course, the example above is just one of many ways you can do a true, complete upgrade to your audio system. So, if you've done some partial upgrades already, take into consideration the above and hopefully you decide to finish the job and complete that audio upgrade after all.
---
In the last installment of this series, we'll complete the guide (yes, it will finally be done!) with some tips, suggestions, and additional tools that can help you on your journey to improving your truck's sound quality. HINT: Sometimes you can compare sound… with your eyes.
Guide Posts Listed Below
Intro: Your OEM Stereo Sucks.
Part 1: It All Starts With the Source.
Part 2: Speak(er) the Right Way.
Part 3: You Don't Drive From the Back Seat.
Part 4: Dogs Underwater
Part 5: Less is More
Part 6: More is Less?
Part 7: Separation Anxiety
Part 8: Time Travel… While Standing Still
Part 9: Partial Means… You're Not Done (this post)
Part 10 Finale: TBD