No Retro: Akkon LED Projector DRL Headlights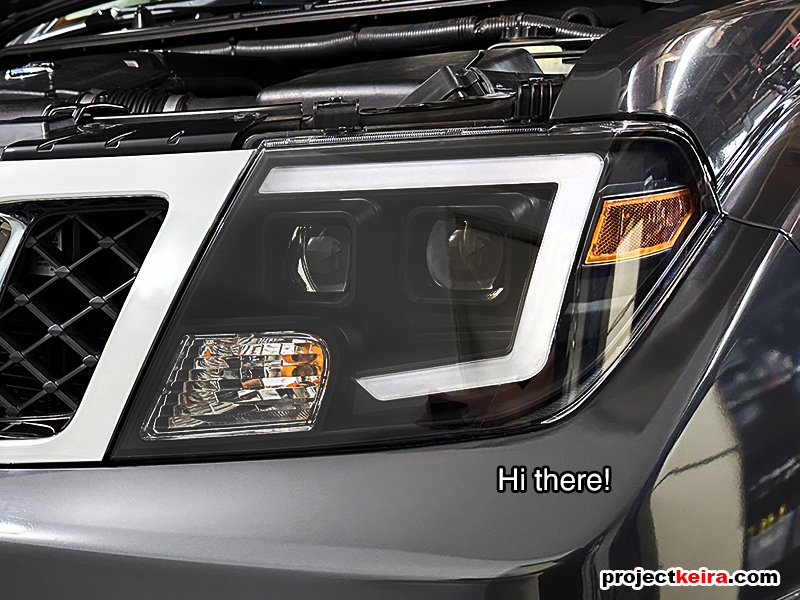 If there's one gripe that all 2nd-gen Nissan Frontier owners will tell you, it will be that the OEM halogen headlamps are terrible! The discovery of semi-compatible LED bulbs in the OEM halogen headlamps (the "Katana LED mod") a few years or so ago actually added some lighting improvement. It was far from optimal, yet as good as it could be with the OEM reflector-type halogen housings.
Moving on to late February 2023, one afternoon I got my truck washed and finally noticed/realized that my OEM headlamps were showing visible signs of lens fading and slight yellowing typical for the age of my truck.  I decided to take a look online at what options there were for replacement  Nissan Frontier headlamps, and out of what was available and what I would have considered, there were only 4: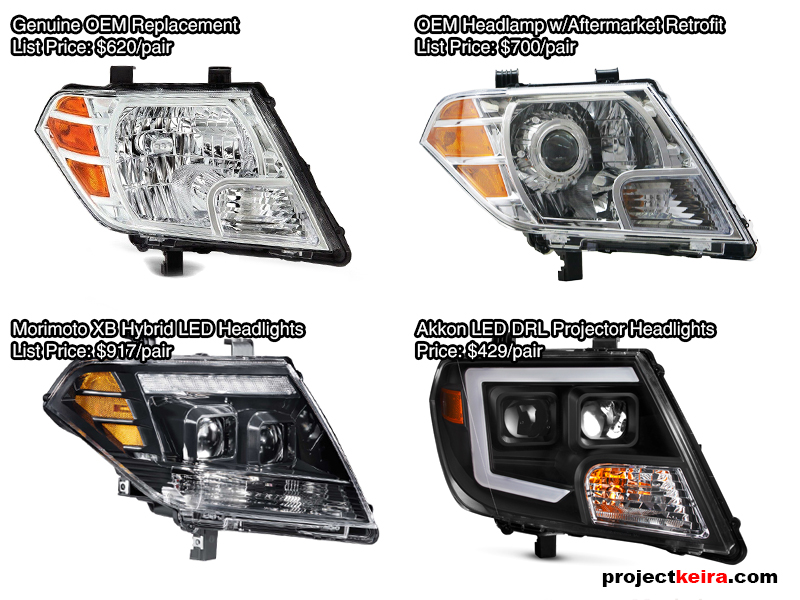 Option 1: Genuine OEM Nissan
Coming in at about $620/pair (genuine OEM Nissan parts, not "OEM replacements"), I could have just ordered OEMs and called it a day. Going this route though meant that for $620 there would be zero improvement in lighting performance and the new replacements would still be… stock.
Option 2: Pre-made OEM with Aftermarket Retrofit Projectors
I was not looking to do my own DIY retrofit, and the only available pre-made options were priced at around $700/pair. However, all of the available pre-made options were made to order (no actual stock that is ready to ship). More noticeable for me – the few stores selling pre-made retrofits had seemingly little in terms of craftsmanship confidence!
When the store websites have detailed, in-depth disclaimers defining something they call "normal moisture ingress" and the lack of any sort of guarantee or warranty coverage offered to the customer when it happens, it just tells me that it's happened to their product enough times already that they explicitly needed to address the issue. And when water gets into the lamp, their response seems to be "Oh well" – not inspiring at all.
Maintenance is an issue here too; I haven't seen a retrofit that allowed the user to adjust the beam angle from the outside – it seems like all low/high beam aiming has to be done without the lens on the headlight, before reassembling everything back together.
Another important issue with retrofits: the difficulty just changing the bulbs. On retrofits from what I've seen, to change bulbs most likely one would have to physically deconstruct the retrofit headlight housing in order to gain bulb access since it is inside the projector housing (which is inside the headlight housing). I wanted to stay away from having to do anything involving opening/closing the actual headlight housing; not only does it add more chances of water leaks when putting everything back together, but it's just so inconvenient to have to do all that work just to change a bulb.
And if that wasn't enough, I never really liked how a retrofit looked; there's just something about the appearance of a projector mounted in the bowl of a (now) useless halogen reflector that doesn't look right to me.
Option 3: Morimoto XB Hybrid LED
Released a couple of years ago, these were highly anticipated due to them being produced under the Morimoto branding – already a familiar and respectable name thanks to their excellent XB series projector fog lamp upgrade for the Frontier (which I used to have myself.) Once these started getting picked up by fellow Frontier owners, in reading many of the real-world reviews on various sources online (with the exception of the Morimoto website itself) a lot of owners said that the lighting improvement after installing the XB Hybrids was… not as exceptional as expected. There was a definite improvement over OEM, but it seemed like the general consensus was that the XB Hybrids were just slightly above "middle-of-the-road".
So okay wait – if I'm going to spend $875+ for a pair of vehicle-specific, non-retrofit LED projector assemblies, you know what? I would expect them to be a little better than "middle of the road". Also, to be honest  I'm not even sure I like the design of the XB Hybrids; I like how they did projector portions, but not how the DRL and signals are simple, uninspired horizontal bars.
Option 4: Akkon LED DRL Projectors
In late 2022 new set of aftermarket housings showed up on the market that had projectors like the XB Hybrids, but with a switchback LED strip and an asking price of only $370/pair. Compared to the other choices, I immediately liked the design of these the first time I saw them. I liked how these had separate projectors for each beam, and I liked how the DRL LED strip shape followed the angles of the headlamp housing. I was very interested in these new lights, but I didn't jump on the initial sale right away and they sold out quickly. I did however keep track of feedback from others who had purchased the initial batch and a few had some issues with the headlamp adjuster screws.
A few months later when the Akkon's were back in stock, I first contacted the seller and asked about the angle adjuster issue. The seller assured me that this new batch was a revised version, so I finally clicked the "Buy it Now" button. Within 3 days a large box was delivered to my doorstep, and I immediately pulled one of the new lights out to get a sneak peek of how they compare to my OEM headlamps:
I was immediately impressed with the build quality of the "C-DRL" headlamp housing. The housing was pretty thick and sturdy, similar to OEM, with mounting points that matched perfectly. The lenses were crystal clear and seemed to be made of durable material – and fun fact: they even have an aiming reference molded into the faces. The rear wiring harness was a tad busy but manageable, and thanks to the pre-installed connectors tthey literally were plug-and-play with the OEM plugs. So far so good.
LED Bulb Upgrades
Even before the headlamps made it to my doorstep, I already planned to upgrade directly to LED bulbs from the get-go. Per forum member feedback, I ordered a pair of Auxito H7 6500k fanless LED bulbs for the low-beam bulb (I went with the original 16-watt version) :
With the low-beam LED upgrade sorted out, I turned to the high-beam projectors. Initially I stuck to the Auxito brand and tried their H11 LED bulbs, but no matter what I could not get one of the H11's installed into the left-side headlamp. The problem was due to the combination of the Auxito H11's rear fan housing being too large + the shaping of the high-beam bulb opening in the headlamp having little clearance for an aftermarket bulb. So the Auxito H11's were returned and after some searching I discovered Fasato H11 LED bulbs: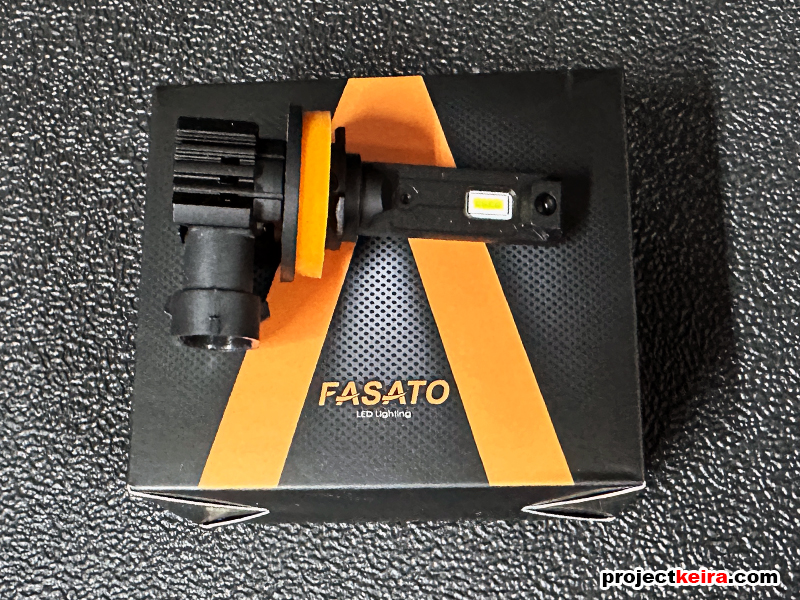 The Fasato bulbs looked to have a much smaller rear fan assembly, and one I had them in my hands it turned out that they were in fact just small enough to allow me to install them into the high-beam locations: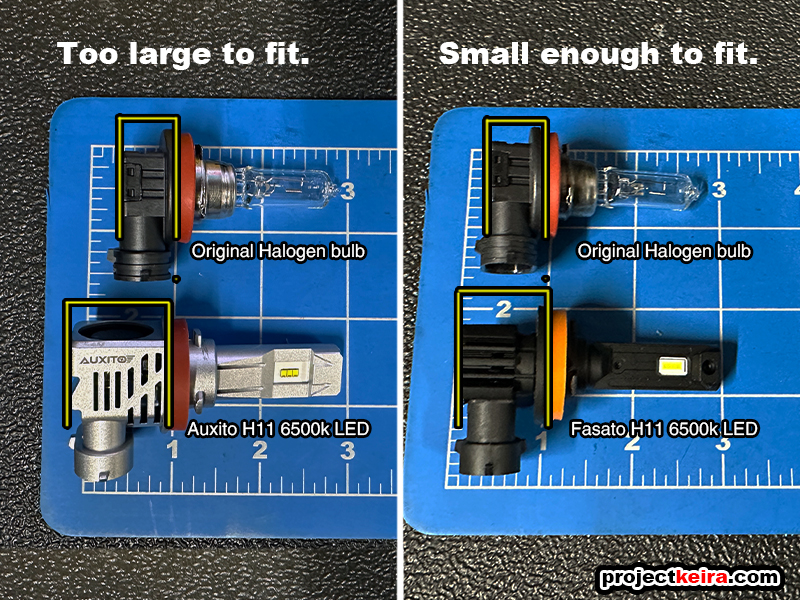 It Was a Great Day Outside to Do the Headlamp Swap… or Not
With all LED bulbs installed and ready to go, I finally found some free time to do the installation; it was a cool, breezy, overcast afternoon when I popped the hood up and quickly removed the grille and OEM headlamps: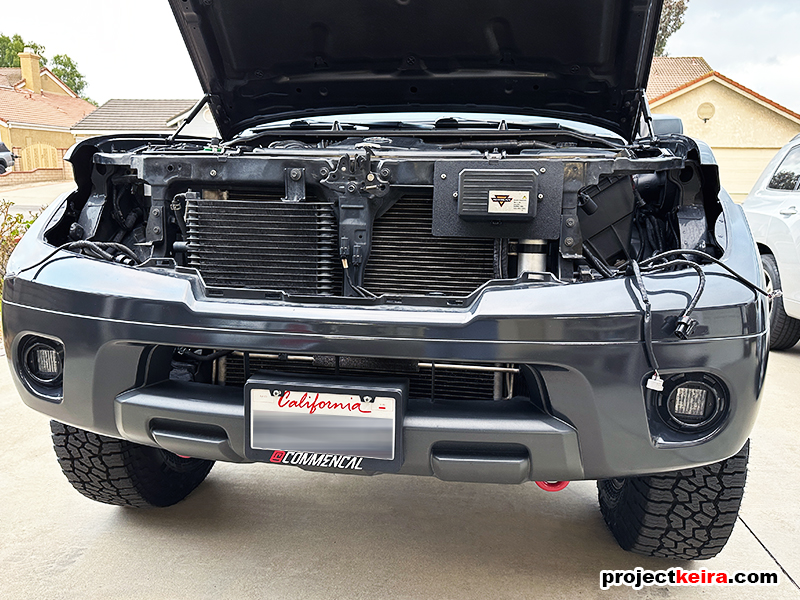 …and then within 60 seconds of taking the above photo, the first of many, many heavy rainstorms decided to soak Southern California over the next 2 weeks!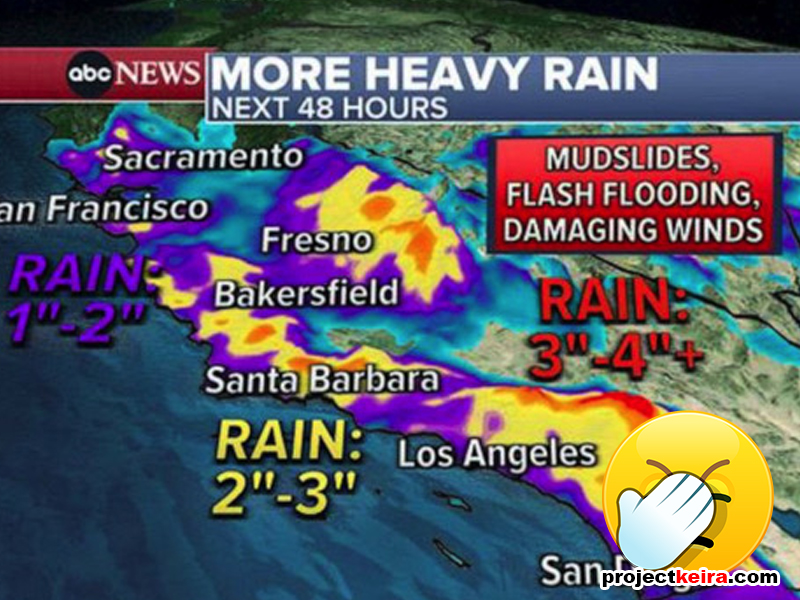 I had to scramble and get the truck into the garage, but once it was out of the rain, I continued to do the swap:
I didn't take a bunch of front bumper removal and headlamp swap photos; I simply followed a video on YouTube showing how it was done (ignore the various electrical tools shown above, those were for something else). I did save some masking tape (lol) by using microfiber towels to protect the headlamps during bumper re-installation: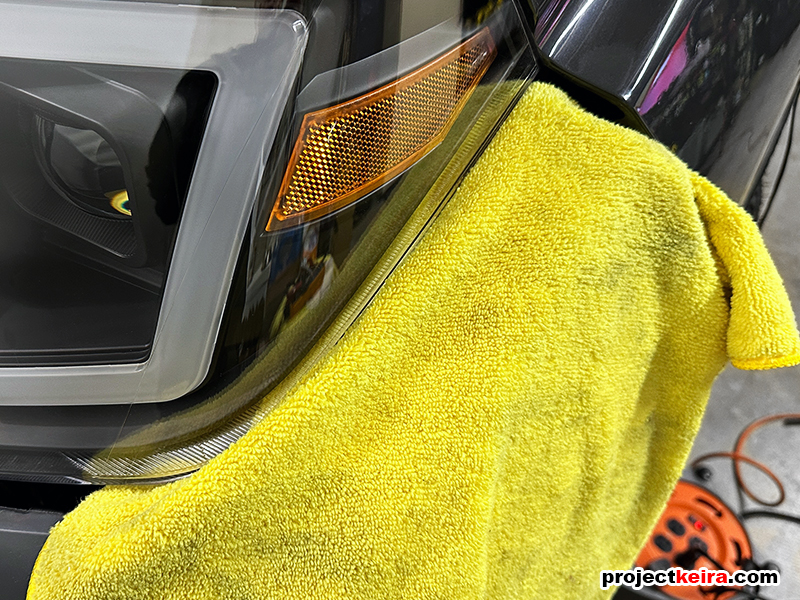 With the headlamps swapped, they do noticeably change the appearance of the Frontier's recognizable front end: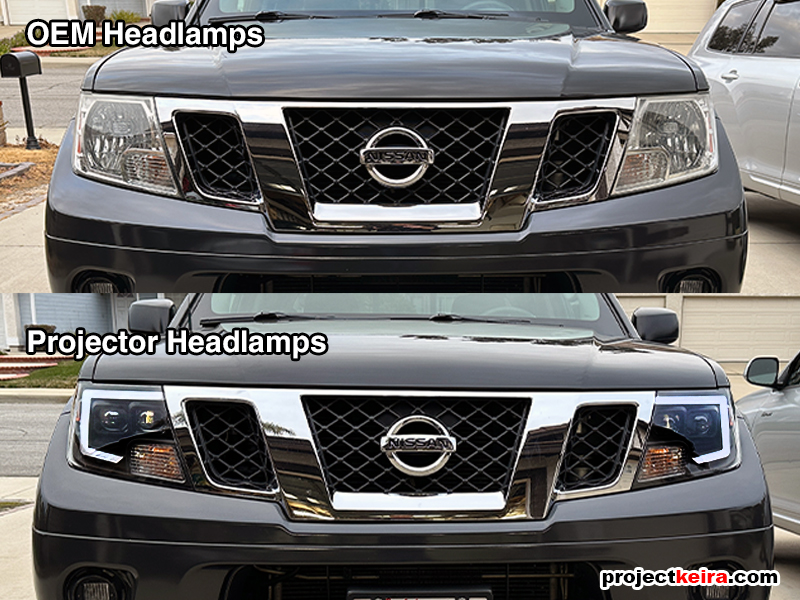 The last step to a proper headlamp upgrade is correct aiming. Just like when I installed the Katana LED bulbs in the OEM housings, I returned to my buddy's warehouse to get the new projector headlamps aimed properly in the exact same location:
The above photo shows the light output and upper beam cutoff; I did not have my fog lamps on, nor any other light on when I took this picture. Fun fact: after I took this picture I immediately forgot to take more pictures afterward because I just zipped through the aiming process so I could let my buddy go home (it was after hours).
…and then the next day it started raining again (and didn't stop for another 4 days), so I took this last pic while picking up lunch:
So… How Are They?
If you aren't aware yet, it's been months since I had the Akkon headlamps installed (even if I'm not posting about them now). When comparing the Akkon headlamps (with LED bulbs installed) to my previous OEM halogen housings + Katana LED combo, There is a definite difference in light output, very noticeable to the naked eye from both outside and inside the vehicle. The low-beam cutoff at the top takes getting used to (especially if coming from OEM halogen) but the reach of the light is good. The low beam could have more of a spread to them, if you look at the aiming photo above you can see that each bulb has a center "hot spot," then the surrounding light tapers off in brightness to the sides. When in high beam the light output is fantastic – the light is spread out in a wide beam with a good reach. As for the regular turn signal – I am still using the stock halogen bulbs, and they are bright – as in I'd be sitting at an intersection waiting to turn left and I'll notice the street sign above me flashing… then after a few seconds realizing that it is not flashing at all; it is the reflection of my turn signal! Finally, the switchback turn signal: I don't care for them either way. They are there and they work, but I would still like the headlamps even without the switchback feature.
PROS
– Low beams have a distinct, sharp upper cutoff
– High beams have a nice, wide coverage
– Headlight bulbs are replaceable without deconstruction
– Signals are also somehow much brighter than OEM
– Fitment is like OEM, direct bolt-on replacement
– They make the Frontier look more modern without being tacky
– Notable "bang-for-the-buck" improvement at a reasonable price
CONS
– Low beam width could be more spread out
– C-DRL light strip isn't as bright as other OEM DRLs
– Internal circuitry makes modding difficult
–Access to high/low beam bulbs are challenging
Conclusion
After about 4 months daily driving them, I think I'm comfortable saying that I am overall pretty happy with the Akkon projector headlights. They fit well, look good, and the light output is a bump up from what I previously had. They are not perfect, the two main things I would have liked to see better were the spread of the low beam light and not having any circuitry sealed inside the housing and being unreachable without literally taking apart the entire light. On a scale of 1-10 (with 10 being perfect) I would give the Akkon headlghts an 8.5. For reference, the OEM housing + Katana method would be like a 7, and the OEM housing with halogen bulbs would definitely be something like a 4.) They are made well, very reasonably priced, and do give a noticeable upgrade over the OEM halogens.
I'm not quite done yet with these headlamps, but I'll save what's next for another post =)
---
Installation Notes #1: Headlamp Adjustment Tools
Whenever possible, I do not use the screwdriver method when adjusting headlamps; I've seen way too many headlamp adjustment screws break when people used the screwdriver method. If the headlamp adjustment screw has a standard hex bolt head (which our Frontier OEM and the Akkon aftermarket headlamps do have) I prefer a low-profile socket and thumbwheel ratchet, as shown below: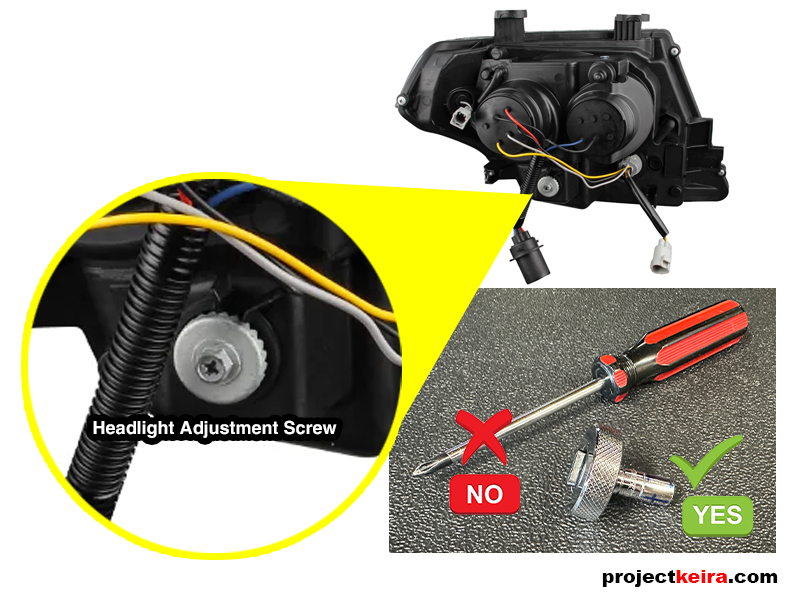 The thumbwheel-type ratchet doesn't need nearly as much room to use compared to a regular 1/4″ ratchet handle. Personally, I find that this method makes it easier to fine-tune the headlamp angle without over-cranking the screw and possibly unthreading them from the internal adjuster.
Installation Notes #2: Low-Beam LED Bulb Orientation
One detail to note about the Auxito H7 LED low-beam bulbs (and any other H7 LED bulb with a similar design): During my numerous testing and swapping different bulbs in and out, I discovered that the H7 LED bulb could actually be installed incorrectly! Due to the shape of the base, they can be installed 90 degrees off – something that happened to me one night as I was experimenting with the headlamps. When I installed the bulb in one headlamp 90 degrees counter-clockwise, the light output was so severely restricted that I thought the bulb wasn't seated properly (when it was). Also, the light beam projected on a wall had a weird "X'-shaped bird pattern with multiple areas in the center of the pattern where there was no light. Fortunately, I noticed the problem and rotated the bulb to the correct position. For reference, see below:
The above image shows how the original halogen low beam bulb on the left (included with the Akkon headlamps) has only one flat side at the very bottom of the mounting ring. Now compare that to the aftermarket Auxito LED bulb on the right; notice that the Auxito bulb actually has two flat sides! So if you decide to swap to LED bulbs in these housings, make sure that you install them in the correct orientation: with the harness contact tabs positioned vertically (one tab above the other tab). If you have the contact tabs positioned horizontally (tabs are side by side). The next two photos illustrate the low beam output when the bulb is in the correct and incorrect orientation: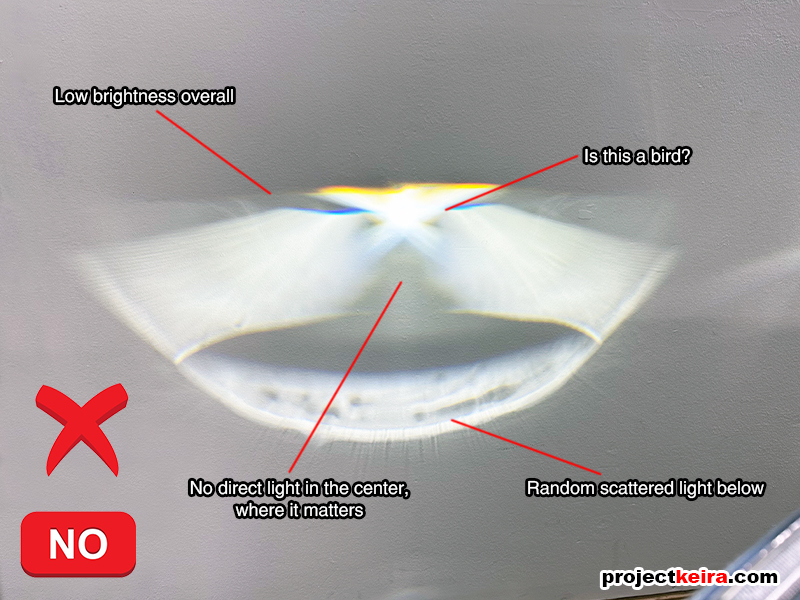 Hopefully these photos make it clear why the LED bulb orientation is an important detail not to overlook!