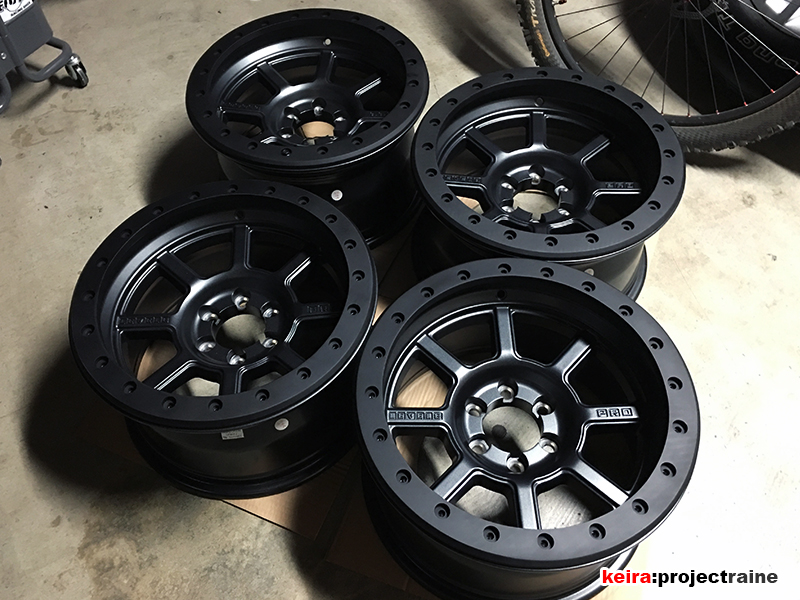 I probably spent half a year deciding on what wheels to go with. 16″ or 17″? High offset or low offset? You know how it goes… in the end after narrowing it down to Method Standards in 17×8.5″ or the Level 8 Bully Pro 6 in 16×8.5″, I chose the Bully Pro for a few good reasons (my reasons); for example, I liked the "more open" face design of the Bully Pro and how the Bully Pro wheel (due to the -6 offset) is much deeper than the Methods, which look flat and too shallow for my taste. Also, the track width would still look pretty close to stock with the Method's since they are a +25 wheel, and this is somewhat important since when i eventually do a lift a wider track width would be more ideal for safety and performance.
But the biggest reason why I went with the Bully Pros over the Methods came about when I went to the 2015 Off-Road Expo at Fairplex in Pomona, CA. There were tons of custom rigs in the parking lot and inside the fairgrounds.. it was a nice show, so many mild to wild rides. More importantly – it seemed like every 3rd truck or Jeep or FJ I saw there that weekend… had Method wheels. Hell – even my cousin has Method wheels on his FJ! Nothing against the Methods, it's just that I felt the Level 8 wheel would have more of a true aftermarket fitment and look to them.
I went ahead and ordered up a set and within a few days the delivery arrived. However I only had the wheels; I ordered some other related bits that I needed before I could actually do the install.